Bay Chapel Food Pantry
April 28th, 2018
The Bay Chapel Food Pantry open every Saturday from 9:30 am - 11:30 am.
We are located at 20303 Trout Creek Drive (directly behind Christian Brothers Automotive).
No registrations or appointments necessary.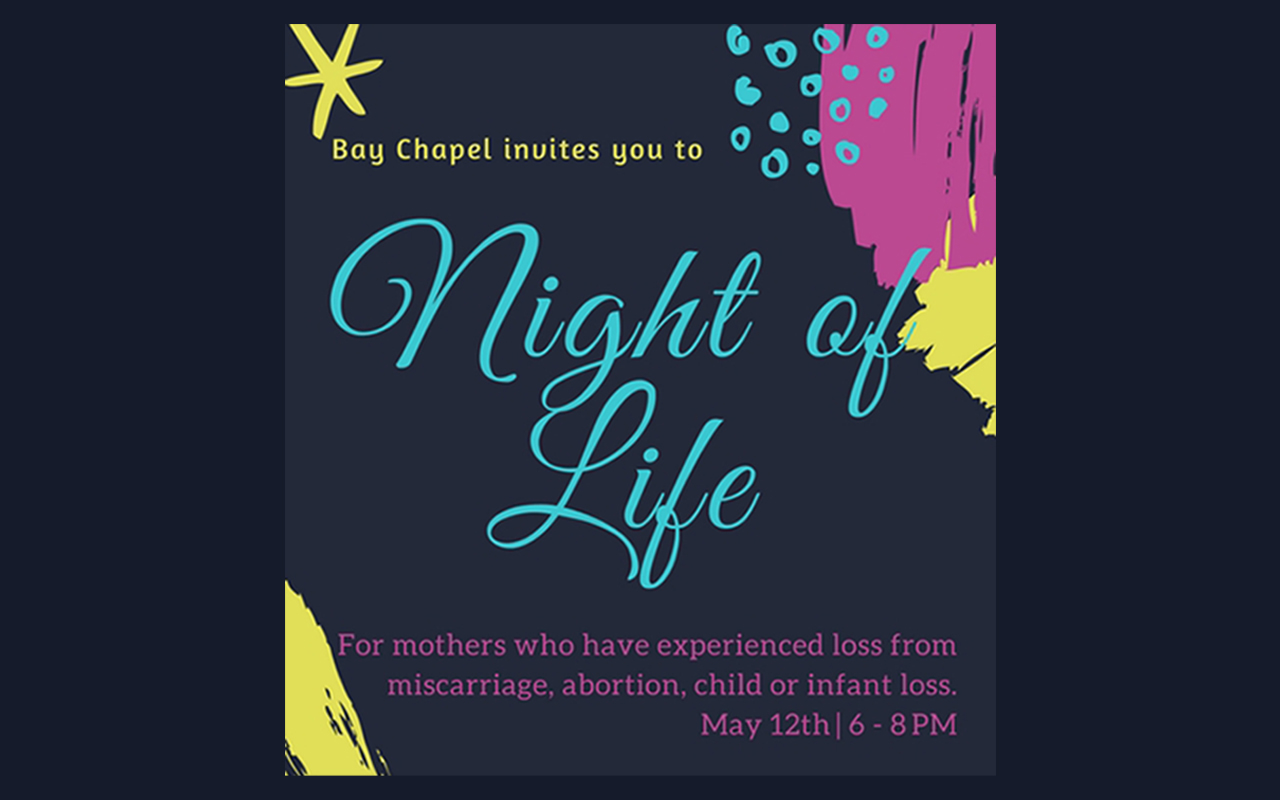 Night of Life
May 12th, 2018
A night of love and encouragement for mothers who have experienced loss from miscarriage, abortion, child or infant loss.
Click here to RSVP for this special event.
Start Event
May 20th, 2018
Our Start event is the perfect way for you to learn the mission and vision of Bay Chapel and your next steps for getting involved. This informal meeting is an opportunity to connect with Pastors and staff, learn more about why we exist as a church and find out how you can get involved.
We will meet in the media center at Bay Chapel after each service.
Address: 9020 Imperial Oak Blvd, Tampa, FL 33647
Zeal Leadership Program
June 7th - August 3rd, 2018
ZLP is Bay Chapel's youth summer program for 8th-12th graders. This is a 9-week commitment over the summer for learning and growing in core values, spiritual gifts, biblical teachings, and have intensive student lead projects to accomplish. This will help students grow in their walk with Christ and discover their purpose. Students will be treated like adults to commit and accomplish tasks and grow them in their leadership.
We will meet every Thursday and Friday morning from 9:30am – 2:00pm. The Program Starts Thursday June 7th and ends Friday August 3rd with our August Zeal Night.
Location:
-Thursdays: We will meet up at Turner/Bartels Upper Campus in the Chorus Room (Zeal Middle School Room)
-Fridays: Locations and events will vary. Information and planning will go out well in advance.
Student will need to fill out and return application.
Twelve Conference
June 11th - June 13th, 2018
$0 - $70
Twelve Conference is a 3 day conference designed to transform students into fully devoted followers of Christ, to live a life bigger than themselves, and to make a positive impact in their world.
Hear from some of the leading voices in our generation, experience powerful worship and youth leader sessions, hear from musical guests, and have a lot of fun as we explore this year's theme, The Effect. Click Here for more info.